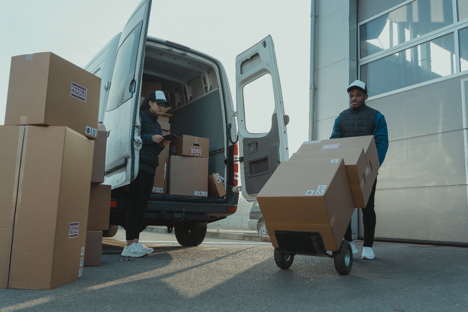 The transportation business tends to make things more complicated than they need to be. You may have come across some ambiguous terminologies used by businesses to appear more "authoritative."
The term "residential freight delivery" is one such example. You may have come across the abbreviation "RFD" on shipping websites and wondered what it stands for.
What Is Residential Delivery? 
A residential address is one where someone resides. For residential freight delivery, the recipient's home address is used for the delivery. This might be a studio, townhouse, or single-family residence.
Delivery to a customer's doorstep is very convenient for the customer. 
What's the Difference Between Residential and Commercial Delivery?
Shipments to or from a home location, such as a house or condo building, are included in "residential shipping." Numerous elements come into play when carriers classify an address as residential or commercial.
The most significant difference between residential and business shipping is that residential shipping incurs additional costs compared to commercial shipping. 
Why Is Residential Delivery More Expensive Than Commercial Delivery?
You may have observed that home shipping prices are more significant than commercial ones if you are an online merchant. Residential addresses, on the whole, are more expensive to run. Residential delivery increases the automobiles' time, gas, and strain.
The most expensive component of delivering a tiny package is delivering it to the customer's doorstep. High-density zones are often where commercial addresses are located. This enables a delivery service to consolidate many deliveries into a smaller region.
This means that commercial delivery is less costly than residential delivery.
The Residential Delivery Fees: How Do You Handle Them?
There is no simple method to avoid paying the expenses connected with the residential shipment. But there are methods for consumers to lessen the burden of alleviating pain points, shipping prices, customizing the shipment process, and more.
The first step is to ensure that all relevant information is thoroughly checked. If you need any residential service, it must be pre-booked with your carrier to ensure that the vehicle and people are available.
To that end, keep in mind that the carrier has the last say on whether or not a location is classified as a residential one.
Obtaining estimates from as many providers as possible is a good idea to guarantee that you don't pay high costs.
What More Do You Need to Know About Residential Delivery?
Home delivery costs apply when transporting freight to a non-commercial (residential) location. Places are defined Depending on the carrier's zones. 
Commercially zoned establishments normally open and close at predetermined hours each day. If your business is located in a mainly residential area, it may be designated that way as well.
Residential and at-home business shipments tend to cost more since residentially zoned areas are generally not freight truck-friendly and are restricted in terms of accessibility.
You may think about this as anything from flats to dwellings to farmland to estates to rural regions to schools or churches.
Wrapping Up 
Residential delivery can help your firm build long-term client loyalty, but it also necessitates a skilled and devoted logistics team. 
Your consumers will appreciate complete white-glove services and decades of logistical expertise when you work together with Trucking Freight Services to provide winning home delivery. 
Get started today by contacting us.