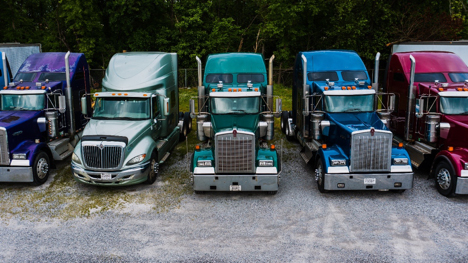 The transportation of goods along roads and highways is the primary focus of trucking companies worldwide. Although many of the largest trucking businesses also supply air, rail, and sea transportation.
Here are 5 top trucking companies:
1. Hub Group
North American transportation management firm Hub Group provides truck brokerage, intermodal, and logistics services to customers. 
Hub Group trucking and mode transportation (previously known as Excel Transportation Services) are publicly traded companies providing intermodal freight transport and drayage services for more than $3.5 billion in sales. 
Phillip Yeager established Hub Group in 1971. On the NASDAQ, the business has been trading since 1996. Phillip Yeager's son David Yeager is the CEO and chairman of Hub Group. The company's headquarter is located in Oak Brook, Illinois. 
2. Schneider National
Schneider National, Inc. is well-versed in intermodal, transport, and logistics. Schneider offers a wide range of services as a logistics provider, including cross-dock logistical services, supply chain management, and logistics for ports and long-haul shipments. 
On April 6, 2017, Schneider's management rang the New York Stock Exchange's opening bell. The company offered the stock at $19.50 per share in its first public offering. 
Schneider's fleet is operated by 11,650 company drivers, 10,120 company vehicles, and 33,830 trailers, transporting 19,318 cargoes every day. 
The company has 166 locations in the United States, Mexico, Canada, and China. Many Fortune 500 firms are among Schneider's clients.
3. Old Dominion Freight Line
Old Dominion Freight Line is an American less-than-truckload transportation company. The company offers interregional, regional, and nationwide LTL services. 
Some of the firm's logistics services include ground expedited transportation, air expedited transportation, truckload brokerage, supply chain consultancy, container delivery, and warehousing. 
It uses freight forwarding services from throughout the world. There are 9,254 tractors and 35,729 trailers owned and operated by the firm.
To put it simply, Old Dominion Freight is one of the world's largest trucking firms in terms of revenue.
4. Landstar System
Landstar System, Inc. is a logistics and third-party logistics-focused transportation services provider. Landstar also uses a vast network of over 11,000 independent owner-operators, which the company refers to as BCOs internally (business capacity owners). 
Landstar primarily operates in the United States and Canada and provides services between the United States, Mexico, Canada, and other nations worldwide. 
Owner-operators in the United States, Mexico, and Canada make up a large part of Landstar's customer base. Unlike typical trucking firms, BCOs (commonly known as business capacity operators) are not dispatched without their will.
5. Knight-Swift
American motor carrier holding business Knight-Swift Transportation Holdings Inc. (commonly known as Knight-Swift) is located in Phoenix, Arizona. 
It's the country's fifth-largest transportation firm. As of July 20, 2021, AAA Cooper will be the company's primary truckload carrier, with the other three being Knight Transportation, Midnite Express, and Swift Transportation.
The firm acquired Midwest Motor Express in January 2022, increasing its LTL reach.
Wrapping Up
Trucking services are in high demand. There is a shift in strategy among the aforementioned top five major trucking businesses to accommodate a more tech-savvy generation.
Top trucking businesses will keep innovating in a highly competitive industry.