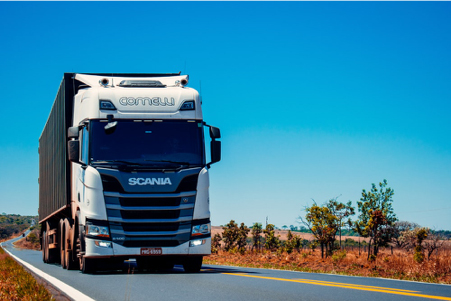 A truck driver must know the type of freight they are transporting and whether that freight is interstate or intrastate. It can be hard to differentiate between the two types of freight, but we're here to help!
Intrastate and interstate significantly impact the types of loads you can transport and the equipment you need. Even though it's easier to start by only hauling intrastate, you'll have fewer options for loads and, as a result, less money to spend.
Most independent owner-operators and small fleets should begin with an interstate trucking company because it gives them more options and improves their success.
Intrastate Trucking
Intrastate trucking is when goods are transported from one place to another within the same state using a commercial vehicle. During intrastate trucking, the goods do not leave the state through which they originated.
Interstate Trucking
Interstate trucking means that shipments originate in one state but end up in another. The commercial truck will cross state lines; in some cases, the trucks will transport a shipment across multiple states.
Trucking Freight Services provides you with interstate trucking for industries like textile logistics, oil and gas logistics, and retail logistics.
Interstate trucking can also refer to shipments from the United States to Canada or Mexico, where foreign authorities are involved.
Interstate vs. Interstate
The difference between intrastate and interstate trucking is essential because the laws regulating the vehicle, driver, and company are different in intrastate and interstate trucking, as are the regulatory bodies.
You must first decide which regulations apply to you as a truck driver to ensure that you follow them.
If you work in interstate trucking, you must follow the Federal Motor Carrier Safety Association's rules and regulations (FMCSR) (FMCSA).
If you're only doing intrastate trucking, however, you'll have to follow the rules and regulations of each state and state regulatory agency.
Role of Insurance in Interstate vs. Intrastate
The difference between interstate and intrastate trucking is crucial in the trucking industry.
One of the main reasons is that commercial drivers require a different license type. Trucking companies may also face insurance issues if they permit an intrastate driver to transport a load across a state line.
If an intrastate driver causes an accident in another state, the consequences for the trucking company and other parties involved are severe.
Because the driver was not operating in their designated state, an insurance carrier could refuse to pay for an accident claim. A person may suffer significant financial losses due to a messy insurance situation if this occurs.
The difference between interstate and intrastate is critical for the trucking industry and commercial vehicle drivers.
Different Types of Trucks
Interstate:
• Tractor-trailers
• Semi-trucks
• 18 wheelers
• Flatbed trucks
• Reefers
• Tanker trucks
Intrastate:
• Tow trucks
• Garbage trucks
• Concrete mixing trucks
• Dump trucks
The trucking industry is still thriving, with more businesses than ever needing to make quick deliveries and complete projects. Companies frequently wonder whether they need interstate or intrastate trucking because there are so many truckers needed, and that's why we hope that this blog proved to be helpful.